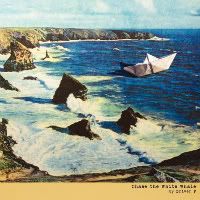 Artist: Driver F
Album: Chase the White Whale
Label: None
Purchase: CD Fuse
Release Date: April 7, 2008
Overall: 7.0
Music: 7.0
Lyrics: 6.0
Production: 7.5
I really love a well-placed horn. Maybe throw a trumpet into the middle there, maybe a little trombone in the intro "" even a full-blown horn section in the chorus. What I enjoy most about Driver F's Chase the White Whale is exactly that "" some well placed horns saving otherwise typical arrangements.
"Two Words, Mr. President: Plausible Deniability," which effectively lifts the curtain on Whale, despite having nothing to do with presidents or plausibility, is actually strong in the hook department "" particularly the drawn out "Hey angel" chorus.
Unfortunately, "Two Words," and the remainder of the album, fall quickly into genre-specifics and very, very tired clichés with mentions of "broken arms" (the aforementioned "Two Words"), bleeding that "never ends ("Suncrusher"), and "" yes "" truth that "flows like water" despite a bitten tongue ("Lie 248″).
Lead singer Andy Lane's voice mostly avoids generic, well-covered Patrick Stump-lite territory by coming off as more of a cleaner take on now defunct underground darlings Northstar, making the inescapable shortcomings of Whale even more unfortunate.
Driver F puts forth a very obvious amount of dedication and effort (evident in their occasional ability to craft decent melodies "" something often lacking in lesser bands likely sharing shelf space with Driver F at your local record store), and for that alone, should be rewarded with typed pats on the back; but they'd do well in terms of artistic relevance to ditch the (intentional or not) emo-shtick and just write songs that speak to everyone. Of course, more horns like those found in the refreshing last minute of "I Have Better Things to Do Tonight Than Die" would certainly help as well.
Track Listing
1. Two Words Mr. President: Plausible Deniability
2. Temple of Doom
3. Suncrusher
4. I Have Better Things to Do Tonight Than Die
5. At Least We Are Civilized
6. Remember When That Train Wrecked Our Lifestyle?
7. The Inevitability of Closing A Hat
8. Bury Me With My Money
9. Water Fun Express
10. Lie 248