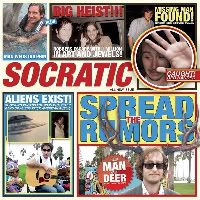 Artist: Socratic
Album: Spread the Rumors
Label: Drive-Thru
Purchase: Drive-Thru
Release Date: May 6, 2008
Overall: 8.0
Music: 8.0
Lyrics: 7.0
Production: 9.0
Remember when the radio actually mattered? Listeners were proud to sit through some Mariah Carey or a few car commercials if it meant just one more spin of Third Eye Blind's "Semi-Charmed Life." Well, Socratic's Spread the Rumors is a lot like that. Unfortunately, even Socratic have their car commercial moments, but it's usually worth the wait for the next little gem around the corner.
Spread the Rumors, produced by Mark Hoppus (of +44 and the now disbanded Blink 182), opens with the hooky first single "Boy In A Magazine," grabbing ears immediately. Production wise, Rumors is only further proof of Hoppus's growing talent as a producer, giving each song just the right amount of tweak and headphone flourish, again reminiscent of 90s headphone records like Third Eye Blind's Blue . Some of the hooks inspire a hint of annoyance after a few listens ("Constant Apology"), while others grow from simply tolerable to gently pleasing ("Long Distance Calls"), though mostly falling somewhere loosely in the middle. Many of the choruses suffer from a serious melodic condition known as "sameys," in which many individual choruses from many individual songs sound, well, the same. This is especially unfortunate in Socratic's case, given the potential of the verses, which one can't help but hope will naturally build into something much, much bigger (think Paul McCartney sized hooks), but, alas, few follow through with this commitment.
With several lyrical misses (nearly all of "Diamond In A World of Coal"), some underdeveloped arrangements, and, of course, the sameys, Socratic still put forth a good effort with an impressive collection of would-be 90s radio hits (something they should embrace even further next time around), perfect for giving your own unique version of "the finger" to today's radio landscapes. Get those sameys cleared up, and Socratic could very well surprise everyone ""even radio.
Track listing:
1. Boy In A Magazine
2. Haven't Seen You In Years
3. May I Bum A Smoke
4. Janis Joplin Hands
5. Long Distance Calls
6. Constant Apology
7. Relevant Elephant
8. Spread The Rumors
9. Don't Say
10. This Opinion of Mine
11. Diamond In a World of Coal
12. Another Headache