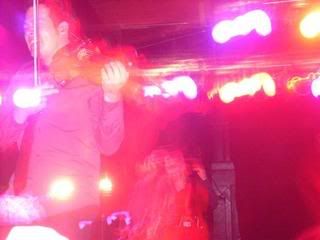 Yellowcard…and Four Other Bands: An Observation
by Trace William Cowen
Photo by Seth Cowen
After being completely stuck in traffic and ending up mildly lost, though still only about a mile from the venue (Ironically, I've been to this place three times; so toss this one up to God's good sense of humor), my brother and I arrived at the Masquerade in Atlanta, Georgia about ten minutes after doors opened. Following a quick bask in the rush of joy and deep relief that we were finally here and not there, we gathered ourselves and took the stairs to "Heaven," the top floor. Though I'm far from being what some might consider a cynic, I did come to this show loaded with the opinion that "" yes "" I was about to see five bands; four of whom, at best, would wave their mediocrity flag quite high for about thirty minutes each, and of course, Yellowcard "" a band I've enjoyed for the past five or so years. My opinion was proven very right.
No one wants the flu or any of its ugly cousins, but timing was especially bad for singer Mike Chorvat. His apparent lean on the "nasal-ness" of his voice was stretched thin thanks to his admitted combination of a cold/flu/something of that nature. The songs seemed to be decently crafted, but were weighed down from the fact that, well, the singer sounded really terrible"¦and really sick. Some grace is due here, so an open bashing will not be included in my review. However, even if Chorvat had not been under the weather, the songs still weren't strong enough to hold my attention. Overall, relatively boring.
Epic, electronically tweaked intros and instrumental interludes can certainly be intriguing. However, the intrigue is destroyed if the blips and crescendos don't ultimately build up to something worth the wait; such is the case with PlayRadioPlay. The initial opening synths and computer fun had me interested, but I lost it all as soon as the singer opened his mouth. I'm open to being proven wrong, but this only further solidified my increasing disgust with these types of bands. Exponentially mind-numbing.
I remember hearing about Secondhand Serenade sometime last year, followed shortly by catching one of SS's videos on MTV (at 5am in the morning, when videos are still played). My initial impression was "Hey, this is a guy trying to be like Dashboard Confessional"¦only with much weaker lyrics." Sadly, this still holds true. However, John Vesely (and his band, respectively) did a nice job of infusing his trite words and borrowed inflections with some real energy, something tonight had been lacking thus far. He sang within his range, and proved to be a strong frontman. Of course, the dichotomy of being a good performer of not-so-good songs eventually collides into itself, again leaving me largely disinterested.
The surprisingly "older" audience (I'm guessing an average age of 18 or 19) seemed to be excited for these guys. I've heard a bit about them over the past couple years, but remained unimpressed by their output. After three bands that left me longing even more for a band I actually cared about, The Spill Canvas only worsened my condition. Once again, the band performed well enough, but the songs just weren't there. Wildly boring.
I lifted onto my tiptoes and leaned around to see if the crowd had grown/diminished any since Treaty of Paris passed some flu around and, not surprisingly, Heaven appeared to be nearly full. After a grueling setup, singer Ryan Key appeared from the darkness, waved, and picked up an acoustic guitar. Wasting little time, he plunged into "Rough Draft," a little known favorite from Yellowcard's 2001 release One for the Kids. The song's sentiments of being "gone before you knew that I was there" were fitting for the evening, and we all seemed to take note quickly, singing along to each word with as much conviction, or more, than Ryan Key himself. Sean Mackin (violin), Ryan Mendez(guitar), and a guy on cello soon joined Ryan onstage, to much applause. Thanks to the acoustic setting, familiar Yellowcard songs were able to breathe and grow organically with our participation, sometimes changing the tempo or flow altogether, giving old songs some very new life. The real attraction to Yellowcard is their genuine care for their fans and songs alike, and tonight was no different. Each song, no matter how old or immature they may seem now that Ryan Key and the band have aged a bit since their inception, obviously hold a special place in Key's heart. Any band would be forgiven for being blatantly bored with playing their biggest hit, but Yellowcard played "Ocean Avenue"(from the multi-platinum album of the same name) almost as if it was their first time. Ryan Key dropped the guitar, quickly asked the audience to "split in half", and directed us like a choir, allowing us to sing backup to his lead, and vise versa. Those who took the time to buy tickets and drive to the show weren't merely "fans," but friends of the band"¦or, as my brother told me as we descended from Heaven, "they make you feel like you're a part of it." We're not listening, we're participating "" this is how you should feel at every concert, regardless of how many opening bands miss this point completely.