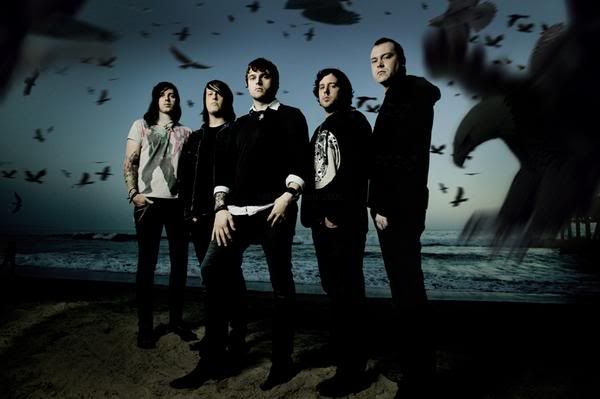 Before Norma Jean decided dropped off their tour with Silverstein, I was lucky enough to be able to interview Jake, bassist of Atlanta's own Norma Jean. Special thanks goes out to their tour manager Lucie, Chris Byrnes, Libby Henry, and of course Jake for making this interview possible.
State your name and position in the band.
I'm Jake and I play bass in Norma Jean.
With all the line up changes in the past, how has that affected Norma Jean?
It has made us better actually. Every time a line up change has happened, we definitely feel it's the right direction for us, and even though some of the lineup changes weren't that easy to go through we've definitely seen God through all of them.
What were the exact line up changes?
Josh Scogin and Josh Doolittle left the band in 2001 or 2002, which was right before Bless the Martyr and Kiss the Child came out. I joined right after that and then we had a fill in singer for awhile. Corey joined in 2004 or 2005, then Daniel quit a year and a half ago and now we have Chris Raines as a drummer.
How do get to know Chris Raines?
He was in a band called Spitfire that we used to play shows with back in the day. We've just known him forever.
From Redeemer to The Anti-Mother Norma Jean's sound has changed, why is that?
We grew up. We're all old and sick of playing chug chug wee songs. It's kind of a natural progression for us. We all care about our music a lot and when we write it's a collective effort with everybody. Its just not two dudes writing stuff. From lyrics to artwork to song structure to songs and riffs, we all kind of mold all the songs. We also just get tired of playing the same old stuff, so we constantly challenge ourselves to break out and play something that no one ever played or somebody has been afraid to play.
Can you describe Norma Jean's writing process?
We usually block off about two to three months and just get together and hammer out songs and we get a practice space for about ten hours a day and just share riffs and stuff. But we're kind of bored with that approach, so we're taking this whole year to write on and off all year and take it really easy and really think through the songs a whole lot and really be happy with what were putting out. Not that we haven't been happy with what we've put out before we've been stoked on everything, but we just wanted to take a different approach this time to see how much more we can challenge ourselves.
What does The Anti-Mother represent and the whole concept behind it?
It's kind of this character that we created that we believe that everybody has inside them. It's basically a mother which is nurturing, teaches you, and something that builds you up and the Anti-Mother is something that tears you down. We believe that everybody has that nature inside them that wants to pull them down like addiction whatever that is lying, cheating, stealing, drugs, alcohol, and greed anything like that. There's something inside everybody that constantly tugs at them to go the wrong way and we really wanted to touch on a lot of issues that we've been through. We felt that we really had something to say on this last record and that maybe you could take something from this.
Where do you get most of the ideas for your songs?
Just life. What we've been through, what we see around us, and what we hope for pretty much. We try to always end on an end note of hope no matter how dark the song may be or lyrical content might be. We always want to say hey we've been through this stuff, but look where we can get to or look what's ahead.
What song do you feel the presence of God the most?
I don't know it's always different each day. Sometimes since we do this so much it just becomes routine and every once in awhile I'll just stop and be like wait I'm on stage God has given us so much, so I usually take about 5 to 10 seconds and pray during the set and try to enter back in.
What new exciting places will you be taking your fans on your next adventure?
Hopefully to Six Flags. Actually I would like to take a lot of people to Six Flags. We talked about doing a mall tour, but we wouldn't play any shows. We would just show up and have people show up and walk around the mall with us and not really do anything.
What's the next step for Norma Jean?
Don't really know actually, we've started writing some stuff. We've got 2 songs that are pretty heavy, we have one song that's really melodic. Scottie is writing some stuff that's a little darker sounding, a little in slower tempo, but weird. And I've been writing some straight up rock I don't know sounds weird, but some aggressive kind of stuff. It's going to be weird, it's going to be different, but we're really excited because we really want to focus a lot on us as musicians and just challenging ourselves to be better at our instruments because there's so much crap as far as bands go.
Do you have a favorite motto or life phrase?
Live your lives. Our old tour manager used to say that all the time and it rules because it's true just live your lives.
To see live photos from their show go to Driven Far Off's photos section 😀