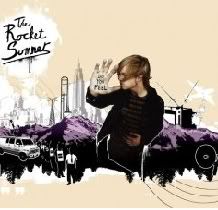 Artist: The Rocket Summer
Album: Do You Feel
Label: Island Records
Purchase: Island Records
Release Date: July 17th 2007
Overall: 9.0
Music: 9.5
Lyrics: 9.0
Production: 9.0
July 17th was a day that had long been marked on my calendar. It marked the release date of The Rocket Summer's junior album — Do You Feel. The joy of my anticipation was killed when my pre-order did not arrive in the mail on the exact release date. I refused to wait another day so I headed over to the store without hesitation to buy what would be my second purchase of the new Rocket Summer record.
I popped in the cd and infectious pop filled my ears to their content. "Break It Out" — the first track was full of more energy then any song I had yet to hear this year. Instead of being eased into the album you are commanded to jump in and you are kept captivated the entire time. Every song is phenomenal and the flow of the record brings you full circle – from diving in with massive spirit in the first track to bringing it down a bit in the humbly written "Back to You" and ending things with the inspiring lyrics and vocals in "So In This Hour…"
This record definitely marks a transition from an indie to a major label for TRS. Do You Feel has a much bigger sound and has some strong elements that Hello Good Friend and Calendar Days did not. This is very evident in "So Much Love". The song features Stevie Wonder's horn section which could not have been more appropriately placed — I believe this song is the triumph of the album.
In today's world of music and entertainment you are hard pressed to find artists who express themselves in a way that reaches out to others with a positive perspective. That is why Bryce Avary deserves the utmost respect for where he has placed himself in the music world. The first two Rocket Summer albums were themed with honesty and sincerity that was undeniable and that same earnestness can be found in listening to Do You Feel.
It is difficult for me to find much of anything to complain about when giving my thoughts on this record – it is everything that a long time fan of The Rocket Summer could ever want and it stretches beyond that to reach a whole new group of soon to be Rocket Summer fans. The album in its entirely is an accomplishment for Bryce Avary that appropriately follows up his last records.
Be sure to check out the The Rocket Summer on the last weeks of warped tour and then into the fall as they open up for the Sleeping with Giants tour headlined by The Academy Is… If you have never been to a Rocket Summer show before and you love the cd you are in for the time of your life. The power from Bryce's live performance combined with dedication and excitement from the fans creates an unstoppable dance party that you are sure to want to be a part of.
Track Listing
1. Break It Out
2. So Much Love
3. Do You Feel
4. Save
5. All I Have
6. High Life Scenery
7. A Song Is Not A Business Plan
8. Taken Aback
9. Colors
10. Run To You
11. Hold It Up
12. Waiting
13. So, In This Hour…