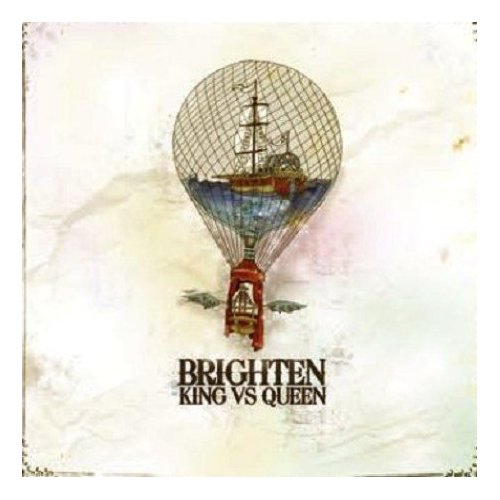 Artist:Brighten
Album: King vs. Queen
Label: Carbon Copy Media
Purchase: Smart Punk
Release Date: March 20th, 2007
Overall: 8.7
Music: 8.8
Lyrics: 9.0
Production: 8.0
To be quite honest, it is amazing to me that such a wonderful CD has to be held down due to legal issues. Carbon Copy Media, the record label of Brighten, is in a very well documented legal battle with its father label, Victory Records. The strange thing about King vs. Queen getting released is that the band themselves did not even know that it was going to happen.
Legal issues aside, Brighten did a wonderful job with this CD. The first two songs off King vs. Queen really set the tempo well for the rest of the CD. Weird thing about it is those two songs combined are four minutes and thirteen seconds, the average length of a normal song. However, the up tempo starting song "More Vacations", even though short in length, tells a story of the struggle the band has faced with their label and much trouble getting this CD released. It should be clearly noted that the line "Donâ┚¬Ã¢"ž¢t trust anyone anymore." appears in the song eleven times. I think they get their point across.
Song three "Ready When You Are" is one of the two songs (along with song ten, "Television") that come directly off their E.P. Ready When You Are, and both of the re-released versions are cleaned up and come off very nicely making them standout tracks just as they were on the E.P.
If you are a listener searching for something a little less up tempo, be sure to give the Jimmy Eat World Clarity-esque song "Darling Nicotine" a try. My personal favorite off King vs. Queen, its starts with a mellowed out two minute and fourty second hook followed by heavy hitting drums and a wonderful outburst of emotion and pure rock. Right after the trip that "Darling Nicotine" and the pop-rock candy-coated myspace-rocker "The Better Way" will take you on, "Single Millionaires" will take you on a different trip, a trip that will be sure to tug the heart-stings. A song that seemed to just come naturally and unplugged, a first listen will leave the listener wanting more. Take one look at the lyrics and give me a call if you are not moved, even in the smallest way.
With a few possible fillers along the way, King vs. Queen ends with another very relaxed song entitled "Why Oh Why" that any fan of Copeland will enjoy. Some people will argue that ending a CD on a soft song is not the way to go, but I disagree. A record ended on a soft note works for some bands, and for this band, it worked beautifully.
While Brighten's King vs. Queen might be very hard to find in stores for a while unless you were very lucky to pick it up the day it came out, be sure to shop around on ebay and other sites to get yourself a copy. Trust me, in a few months, a year, however long it takes for this band to blow up, you'll want to be one of those people to say you knew about them a while ago.
Tracklisting
1. More Vacations
2. Heart Like That
3. Ready When You Are
4. Treasure Island
5. Mr. Mister
6. Darling Nicotine
7. Better Way
8. Single Millionaires
9. We Chose The King
10. Television
11. Cops and Robbers
12. Why Oh Why